V-Care' is a registered initiative/brand towards women hygiene and Environmental care, which initiated in 2011 by establishing first MP's sanitary napkin manufacturing unit Under SABLA scheme of GOI.
As one of the leading community based brand of rural and semi urban region of Madhya Pradesh-INDIA. Our mission is to provide beneficiaries with affordable, hygienic and convenient sanitary napkins. We are strongly committed to deliver good quality napkins to our beneficiaries at their door.
The main objectives of introducing V-care are to promotion of menstruation hygiene education and supply quality sanitary napkins to nonusers. Installation of sanitary napkin vending machine and disposal machines to meet emergency access of women and girls.
From 2010 onwards V-Care has reached to the nerves of social entities which is lacking in term of healthy living and ensure the effective implementation of the goal by educating the end user.
V-care has introduced Sanitary Napkin Vending Machine and disposal machine under the brand name of "V-care vend" to ensure availability of affordable napkins and for creating awareness.
The gender-unfriendly school culture and infrastructure, and the lack of adequate and affordable menstrual protection alternatives and private sanitation facilities for female at rural places.
These draw a conclusion that menstrual hygiene is a problem not only in rural as well as in urban places. By a multi sectored approach, we decided to provide Accessible, Available, Affordable and Acceptable menstrual sanitary material Under the banner head of V-CARE we have had two successful launches
V- care sanitary vending/dispenser machine
&
V care sanitary napkin disposal Machine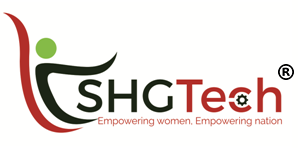 SHGTech is a registered brand name for providing technologies, training and implementation of women empowerment projects. Exim Expertise always brings new technologies and products that can be manufactured by Self Help Groups and later result  in empowerment of SHGs  by connecting them with income generation activity. To adopt this innovation, SHG provides a learning opportunity and training for manufacturing various products.
Exim Expertise  launched SHGTech with the help of Women & Child development (WCD) in 2012, with the aim to reach every corner of the country, States, Villages, We delivered technological knowhow, new design techniques, skill development and training by acting as a catalyst, providing all escort services leading to higher productivity, competitive prices and monitoring stringent quality control.
SHGTech strongly claims to have achieved success in motivating women to opt for entrepreneurship as a challenging career – the only answer to unemployment. Outreach Entrepreneurship & Skill Development trainings, financial assistance services are being provided to set up micro enterprises amongst women minorities, SC and tribal's in various states in the country.